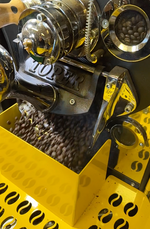 We have had occasional requests for allowing collection in person from local customers who would find it easier to collect rather than have their order shipped. It's actually considerably more challenging then you might expect, and as a small business our resources are primarily aimed at crafting delicious roasted coffee and getting it to our customers as quickly as possible.
With new additions to our team this year, it is now realistic to offer click and collect - just select your delicious coffee from our range, and when you check out select the shipping option for Local Collection - there is no charge if you are collecting in person. Collection times are limited to 9am to 4pm Monday to Friday only - so depending on your own schedules it might still be easier to use one of our competitively priced shipping options instead.
Allow at least 24 hours from ordering to collecting, if there is a delay we will let you know. If you are in a rush get in touch first so we can advise what we can do - because we roast in small batches frequently on the shelf stock is limited - we know you all appreciate receiving coffee that is freshly roasted by us and try our best to ensure the product we have available is as close to roast date as we possibly can.