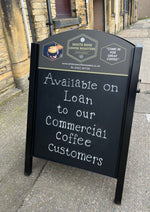 For our commercial outlets like cafes and restaurants we now have available on loan these amazing A-Boards to promote the quality coffee they serve, and so they are more functional for the outlet they include a chalk board lower section for writing on specials of the day, drinks menu, prices - whatever they feel like promoting to passing business.
We have gone with the best quality we could find for these A Boards, the metal frame is solid and carries a large amount of weight, meaning they will stay in place no matter what the weather throws at them. The display boards slide out so they are easy to write your latest advertising message on, we feel they will be a perfect addition for any outlet that has available street space to position one.
They are available on free loan while any outlet is currently regularly purchasing our coffee, to put your name down for one use the contact form to get in touch with your business details.