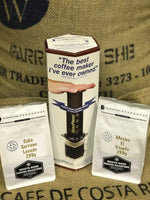 White Rose Coffee Roasters can supply any of our Roasted Coffee in retail packs of coffee beans or ground coffee, 250g of coffee per pack and we can even label them with your coffee shop or delicatessen name and logo.
Because we roast coffee fresh daily, you will be able to sell to your customer freshly roasted retail packs of coffee. If White Rose Coffee Roasters supply your espresso coffee beans, you can sell retail packs of the coffee you serve - either has coffee beans or ground coffee.
For more information and pricing on White Rose Coffee Roasters Retail Coffee Packs - use our contact form to get in touch.